If you have made the decision to embark on the journey of building your own home instead of opting for a pre-constructed property in Belfast, it is important to note that a conventional mortgage might not be the most suitable choice for your specific needs and circumstances. Consult with our knowledgeable mortgage advisor in Belfast to explore the options of a self-build mortgage tailored to your unique requirements.
In the case where you have successfully identified or already own a piece of land that meets your requirements, and have obtained the necessary planning permission to commence construction, you will find yourself in a situation where financing the project becomes a priority. This is where a self-build mortgage comes into play.
What is a self-build mortgage
A self-build mortgage is specifically designed to cater to individuals who are undertaking the ambitious task of building their own homes. Unlike a traditional mortgage, which is typically used for purchasing an existing property, a self-build mortgage provides the necessary financial support to cover the various stages of constructing a new home.
Whether you are starting from scratch or planning an extensive renovation, a self-build mortgage offers a structured approach to financing your project. It allows you to access funds in a controlled manner, releasing the necessary funds at different stages of the construction process.
This ensures that you have the required capital available when needed, reducing the financial burden and providing the flexibility required during each phase of the build.
Self-build mortgages often offer additional features and benefits tailored to the unique requirements of self-builders. These may include staged payments to contractors, allowing you to manage the cash flow efficiently, as well as flexibility in terms of design and materials used.
How does it work?
It is important to note that obtaining a self-build mortgage requires providing comprehensive plans and specifications for the proposed home, along with the necessary planning permissions. Lenders typically assess the viability and potential value of the project before approving the mortgage.
Conventional mortgage arrangements typically involve providing the buyer with the entire loan amount upfront, which is then used to purchase the property. However, a self-build mortgage operates differently due to the absence of the usual collateral that lenders rely on—the completed house itself.
Since releasing the entire loan amount at once would expose the lender to unacceptable risk, a self-build mortgage follows a different approach. Instead, the lender disburses the funds in stages or instalments.
These instalments are strategically designed to correspond to each phase of the construction process, ensuring that the project is financed incrementally as you progress.
In some self-build mortgage agreements, the funds may be released in advance, meaning you receive the necessary funds for laying the foundations before actually commencing that stage of construction.
On the other hand, certain mortgages release the funds in arrears, requiring you to personally cover the expenses for each construction stage and then seek reimbursement once the subsequent instalment is provided.
The specific arrangement and structure of self-build mortgages can vary depending on the lender and the terms of the mortgage deal. It is crucial to carefully assess and select the type of self-build mortgage that aligns with your particular circumstances and financial requirements.
Types of self-build mortgages
Our mortgage advisor in Belfast will delve into the intricacies of the two primary types of self-build mortgages: advance and arrears. By exploring the specific characteristics and workings of each type, you will gain a comprehensive understanding of their respective advantages, considerations, and implications.
Whether you are considering a self-build project or seeking to expand your knowledge in this area, this guide will provide you with valuable insights into the distinctive features of advance and arrears self-build mortgages from our mortgage advisor in Belfast.
Advance
Under a self-build mortgage, your lender adopts a payment structure that involves releasing funds at the start of each construction stage. This allows you to directly utilise the funds to cover expenses related to materials, labour, and even the acquisition of the plot of land, if necessary.
One of the key advantages of this type of mortgage is that it ensures you have a steady cash flow throughout the project. If your available funds are limited to covering the initial deposit, the self-build loan safeguards that you always have sufficient financial resources to keep the construction process progressing smoothly.
It's worth noting that the lender typically retains 10 percent of the total loan amount until your house has obtained a completion certificate. This acts as a safeguard and is only released once the construction is deemed complete, providing assurance to the lender that the project has reached its final stage.
By adopting this payment structure, a self-build mortgage facilitates the efficient allocation of funds, empowering you to manage expenses effectively and maintain momentum throughout the construction journey.
Arrears
In this particular mortgage arrangement, the funds are disbursed to the borrower upon the successful completion of each stage of the project. Consequently, it becomes the responsibility of the borrower to manage and cover the expenses associated with materials and labour until the lender verifies the completion of each phase.
While an increasing number of lenders are now more willing to provide this type of self-build mortgage, it is essential to have the necessary funds available to finance each stage while awaiting the disbursement from the mortgage.
In cases where the borrower does not possess the required savings, one potential solution is to utilise bridging loans to cover the upfront costs. Subsequently, these bridging loans can be repaid using the mortgage funds once they become available.
Advantages of a self-build mortgage
Constructing your own home has the potential to result in significant cost savings, especially if you already possess a suitable plot of land and have obtained the necessary planning permission.
One notable advantage is the exemption of building work from stamp duty, as well as the exemption of the finished house's value. Consequently, you will only be required to pay duty on the value of the land itself if it surpasses £125,000, which is typically considerably lower than the value of the completed property.
It is common to discover that the construction costs are often lower compared to the price you would have paid for an existing home, unless any unforeseen incidents occur.
Building your own home presents an opportunity to potentially save a substantial amount of money, particularly when considering factors such as stamp duty exemptions and the potential for lower construction costs in comparison to purchasing a pre-existing property.
Downsides of a self-build mortgage
Only a limited number of lenders offer self-build mortgages, so you may have to hunt around a bit more to find the right deal.
In such cases, engaging the services of a mortgage broker can be highly beneficial, as they possess the expertise to search the market extensively on your behalf. This allows them to identify and recommend the right self-build mortgage options that align with your specific requirements.
When it comes to the early stages of self-build projects, there are numerous factors to take into account.
At The Mortgage Clinic, we are well-equipped to alleviate the confusion and address any inquiries you may have regarding the most suitable mortgage options to finance your build. Even before delving into the design phase, we encourage you to reach out to us and arrange a complimentary Self Build Mortgages Planning Consultation.
It is worth noting that our initial advice is provided free of charge, as we aim to offer valuable guidance and support without any associated fees.
How to get a self-build mortgage
To impress lenders, it is crucial to demonstrate meticulous planning and thorough consideration of each project stage. Prepare comprehensive projections of costs, timelines, and conduct risk assessments while including contingency plans.
Ensure you possess a detailed site map, clear floor plans, and a breakdown of how your allocated budget will be utilised. Some lenders may require the utilisation of conventional materials to facilitate accurate valuation upon project completion.
Verify the planning conditions to ensure full compliance for constructing the desired structure on the land. Additionally, your lender may request a warranty or supervision of the project by an architect or professional consultant.
Lastly, it is essential to prove to your lender that you have sufficient funds to reside elsewhere during the project's execution. Living on-site in a caravan or temporarily staying with accommodating relatives can be viable low-cost options.
Self-build mortgages serve as valuable tools to accomplish your dream home while maintaining affordability. Engaging a specialised mortgage broker significantly aids in navigating smaller, more specialised lenders and products.
As part of our process, we will carefully examine your credit report, which is an essential step in obtaining any form of borrowing, such as a mortgage, credit card, or personal loan.
Our mortgage advisor in Belfast will assist you in obtaining a "Agreement in Principle," providing you with confidence that you can secure the mortgage you need.
Following our Planning Consultation, you will have a clear understanding of the amount you can borrow, the anticipated costs involved, and the necessary documentation you should start collecting.
This will enable you to be well-prepared to pursue your dream home purchase! Contact our mortgage advisor in Belfast today to get started!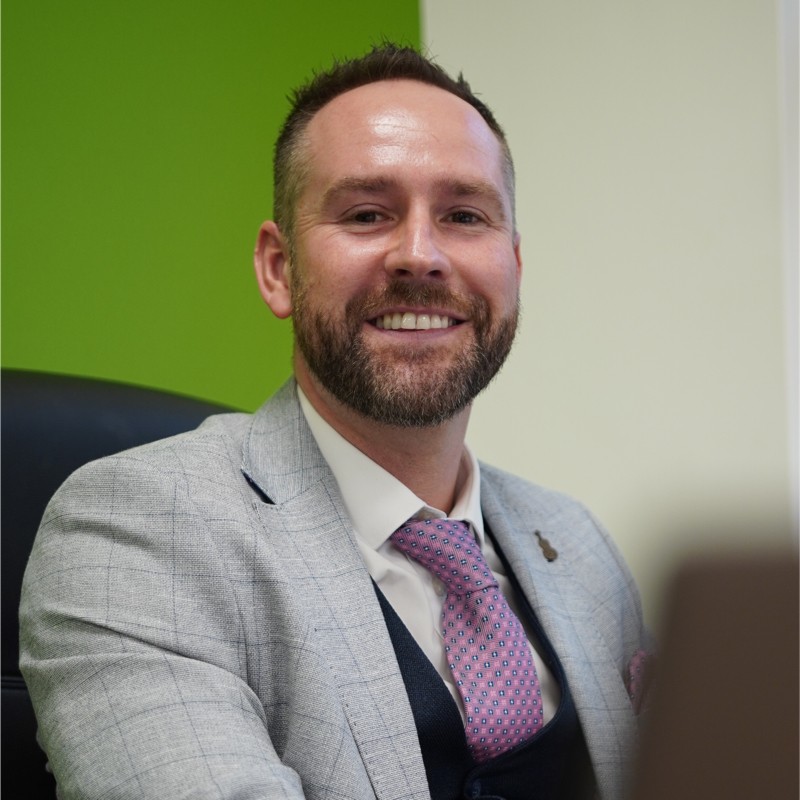 Helmut Elstner
Managing Director – Independent Mortgage Broker and Insurance Advisor
Helmut started working in financial services in early 2012 and founded The Mortgage Clinic in Belfast in early 2015. He specialises in all types of mortgages from First Time Buyer, Co-ownership, Self Build, Home Movers, Remortgages, Debt consolidation, to Buy to Let.
Three Best Rated Winner 2021
Winner Mortgage Broker of the year 2020
Top Rated Advisor 2021 on Vouchedfor